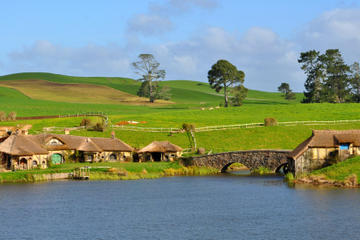 Immerse yourself in the otherworldly beauty of New Zealand's North Island on a two day escape from Auckland. From Rotorua's famous geysers and the glowing Waitomo Caves to the re-creation of Middle-earth at Hobbiton, you'll discover scenic beauty and natural wonders, ancient Maori traditions and movie-making magic on this fascinating two day travel tour.
This 2 Day non-escorted independent travel tour will have you travelling by scenic coach with plenty of time at leisure to make this holiday truly magical.
Day 1 - Auckland - Waitomo Caves - Rotorua
Leaving Auckland by scenic coach, you'll be driven south to visit the world-famous limestone formations of Waitomo Caves. Enter the subterranean labyrinth of caves to admire a magical world of stalactites and stalagmites, eerily lit by the luminescent gleam of tiny glowworms.
After your tour of the Waitomo Caves, a picnic lunch is served on board the coach as you are driven east across the North Island to Rotorua. There's free time to explore Rotorua before boarding an amphibious 'duck' vehicle for a tour of Rotorua's lovely lakes. In the evening, discover Rotorua's rich Maori heritage during a night of ritual, ceremony and cultural performances, including a traditional Maori 'hangi' feast featuring meat and vegetables cooked in an earth oven.
Day 2 - Rotorua - Hobbiton - Auckland
After breakfast, get ready to see mud pools, spouting geysers and other geothermal displays at Te Puia, where you'll also enjoy Maori cultural performances. Next, meet New Zealand's signature kiwi birds at Rainbow Springs Nature Park and see sheepdogs and sheep-shearing in action at the Agrodome.
Your tour continues with a scenic drive across the Kaimai Ranges to the farm near Matamata that was transformed into Hobbiton for
The Lord of the Rings
and
The Hobbit
movie set. Here you'll see the fairytale landscapes of the Shire, including the hobbit holes, and visit the Green Dragon Inn and Mill.
Following your memorable visit to Hobbiton movie set, you travel back to by scenic coach to Auckland, where your travel tour concludes.
This non-escorted independent travel tour includes - Auckland accommodation pick up and drop offs, return scenic coach travel, 2 nights hotel accommodation, lunch, dinner and breakfast, entry and guided tour of the glow worm caves at Waitomo, entrance to Agrodome, Rainbow Springs, Te Puia thermal reserve, Rotorua 'Duck' tour, Maori Hangi and the guided tour of the Hobbiton movie set.
Pre and post travel accommodation is not included. For pre travel accommodation reservations and pick up/drop off in
Auckland
.
This non-escorted independent travel tour departs Auckland 7.30am and concludes in Auckland approximately 8.10pm.
You can add to this travel tour, half and full day sightseeing attractions and/or other non-escorted independent travel touring packages (ranging from 2 to 4 Days) in and from
Auckland
.